Lotus Notes uses NSF files to save user mailbox information and important items. With email folders IBM Lotus Notes allow offers to save contacts and calendar items of users. Sometimes users comes in a situation where user needs to export contacts/address book. For Exporting and saving contacts of Lotus Notes CSV files is a great option. If you are also user who needs to Export Lotus Notes Address Book to CSV/Excel files, then this blog post can help you. So, let's reading this article and get knowledge of exporting contacts from Lotus Notes to CSV files…
The main use of HCL/IBM/Lotus Notes is performing emailing task. A large number of businesses and enterprises in this world use this email client to securely send & receive emails. In addition to emailing task Lotus Notes also offers the feature of saving contacts/address book. Lotus Notes names.nsf files for saving Lotus Notes address book. Saving contacts of Lotus Notes in names.nsf file is easy, but sometime users need to export them to CSV file format. There can be various reasons behind this.
Also Read:- How to Export Lotus Notes Contacts to vCard?
Reasons For Exporting Lotus Notes Address Book to CSV
To reduce the size of Lotus Notes Mailbox users prefers to Exporting contacts and saving to CSV files.
Migrate Contacts from Lotus Notes to Outlook or any other email client user need to convert Names.nsf to CSV.
NSF files are only workable in Lotus Notes application and accessing contacts of Lotus Notes with other aplication user face difficulty. In this situtaion user requires to convert Name.nsf to CSV or export contacts items to CSV files.
Managing a large number of contacts is more easier with Excel CSV file as compare to Lotus Notes NSF files.
CSV format is a universal file type and works in multiple applications (incluing all versions of MS Excel, LibreOffice, etc) and in all Operating systems.
These are the reasons why users want to Export Lotus Notes Address Book to CSV files. In your case one of these or any other can be your reason, but as a result all types of users want the same solution. So let's begin the topic "How to Export Lotus Notes Address Book to CSV?"
Professional Tool to Export Lotus Notes Contacts to CSV file for Excel
Manually extracting contacts from Lotus Notes is possible but it is a lengthy process and also user may face problems while using this method. In case where user is unable to perform this task they should use a professional solution. The best method to Export Contacts From Lotus Noes NSF to CSV file is using an automated tool like- eSoftTools Lotus Notes Contacts Converter Software. With this single software at a single time user can Export contacts from multiple NSF files. After conversion or export process software provides a CSV file which will work in all supported applications.
How to Export Lotus Notes Address Book to CSV/Excel? Step by Step
To begin the process of Exporting Lotus Notes Contacts to Excel CSV first users need to download eSoftTools Lotus Notes Address Book Converter Software. After downloading process install the software on a windows based machine and apply the below mentioned steps.
Launch Lotus Notes Contacts converter in your computer.
From the first screen of the software, click on Select NSF button.
Choose the option "Single NSF file Conversion" or "bulk NSF file Conversion" for single or multiple nsf file selection and click on Next.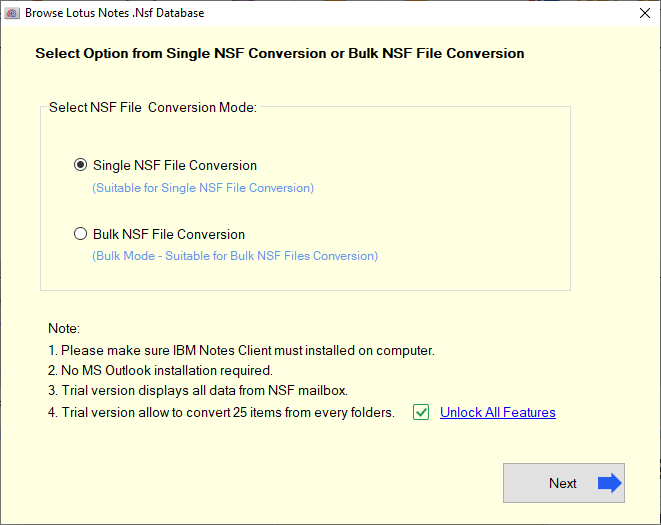 Select required names.nsf, archive.nsf or other nsf file and press the start scanning button.
The software will load all mailbox folder and items from Lotus Notes NSF file in software panel.
Get the preview of contacts folder items items and select the folders and then click on Convert from the menubar.
In the Export Lotus Notes option window make selction of required option.

From the conversion option section choose the CSV file option.
Click on Browse button and choose the file saving location.
Now simply hit on Convert to start the Lotus Notes Contacts Export process.
After the completion of this process user will get a new CSV file to their selected location with entire Lotus Notes contacts.
Conclusion
Because of various reasons Lotus Notes users needs to Export contacts items to CSV files. But manually exporting is difficult and also with manual technique there is chance of data loss. So, the method that Expert recommend is using automated method to Export Lotus Notes contacts to CSV with security and in a reliable manner. For this user can also take advantage of the free demo edition of eSoftTools Lotus Notes Contacts Converter software.