Lotus Notes is an email application that offers users a very high level of security and various outstanding features. Lotus Notes also comprehended as the IBM Notes by users. Zimbra desktop email client that has gained popularity in the last few years for its lots of precocious features. This email client also has tight security settings. Some users now want to switch from Lotus Notes to Zimbra desktop. Read this blog, to check the need and the method to perform Lotus Notes to Zimbra Migration.
Reasons behind the migration of Lotus Notes NSF files to Zimbra.
The major intention to migrate Lotus Notes to Zimbra is the cost:- Lotus Notes is a paid edition of the email client. But presently there are several options attainable to get the Lotus Notes migrated to other configurations. The user will be able to obtain many email clients. Although the applications are free, they facilitate the users with the same features as such given in the paid edition.
It is necessary to have a sufficient technical understanding to use the Lotus Notes Email client:- A novice user cannot use Lotus Notes, unlike the other email clients that can be used skillfully. While using Lotus Notes, if any error occurs then the situation may arise where the user might have to face a lot of crises. This also becomes one of the most prominent reason to migrate Lotus Notes to Zimbra
Accordingly, moving to security reasons Zimbra doesn't show any sorts of mishandling despite it being free. This becomes another suitable motive to migrate Lotus Notes to Zimbra.
Lotus Notes to Zimbra Migration tool
Lotus Notes to Zimbra migration is truly a complicated task because Lotus Notes stores its database in NSF file that is not supported by Zimbra Desktop. So first you have to Convert the Lotus Notes file into .tgz format of Zimbra email client. Since there is no direct method to migrate Lotus Notes to Zimbra, the user has to assign an automated third-party tool.
Recently the brand eSoftTools has launched new software known as Lotus Notes to Zimbra Migration tool. This is a 100% Risk-free application that works to migrate Lotus Notes to Zimbra without any chance of data loss.
Key Features of Lotus Notes to Zimbra Migrator
Easy migration of the entire Lotus Notes database to TGZ format for Zimbra.
Enables migrating Lotus Notes NSF database to Zimbra in bulk without misplacing any data.
All Lotus Notes emails will be kept conserved in exact folders and subfolders structure.
Has the power to migrate Lotus Notes to Zimbra TGZ without installation of IBM Notes.
Fully verifiable to Lotus Notes files of all the versions of IBM Notes.
The user-friendly graphic interface of the tool is one of the main features of the appliance.
How to Migrate Lotus Notes to Zimbra Desktop
Download eSoftTools NSF to TGZ Converter.
In the first interface of the application, Click on Select NSF button.
From the newly opened window choose any one option from Single or bulk NSF file conversion as per your requirement.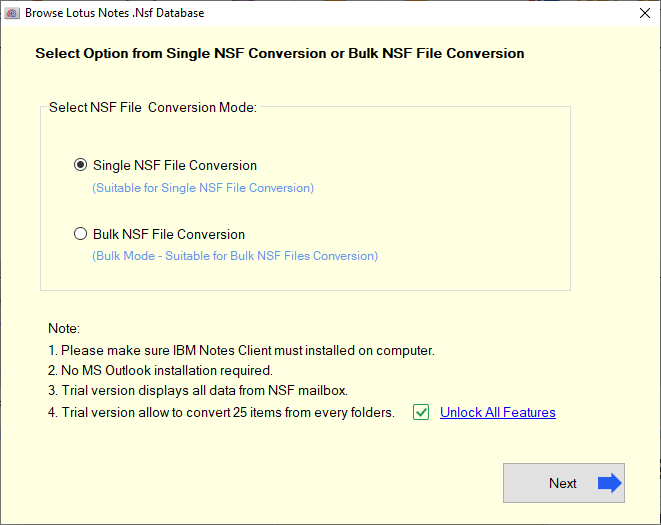 Now grab the NSF file from its location and press the button Start Scanning.
The software will offer you a live preview of all inner components of NSF file to choose the required folders or items.
Click on the Convert to Zimbra button.
Now choose the destination path to save the resulted TGZ file and finally click on Convert.
Now simply import the resulted TGZ file to Zimbra desktop and easily access your Lotus Notes database items with Zimbra email client.
The final words
For making a secure & reliable migration process, the user must choose the Lotus Notes to Zimbra migrator. The utility allows users to export Lotus Notes to Zimbra within a few seconds by maintaining the data integrity. These facilities cannot be found in the manual technique. You don't need to have primary technical knowledge while operating this application. You will find it very manageable to use with its suitable graphical user interface.