Last updated on March 31st, 2021 at 02:27 pm
Are you searching for a way to Export Lotus Notes email with attachments to EML files for multiple purposes? You haven't been able to find a workable way to save Lotus Notes email as.eml? If that's the case, take a look at this blog. Here, we'll show you the best method for "Lotus Notes Export Email with Attachments".
Lotus Notes is an effective program but it is difficult for a small business to purchase it due to its high cost. So businesses tend to Export Lotus Notes emails to EML files. Thunderbird, Outlook Express, Windows Live Mail, and various other desktop email clients are all compatible with EML files. If you have two desktop email clients, you can easily transfer emails between them using EML files with less effort.
Furthermore, EML files work on all operating systems, including- Windows, Mac, and Linux. Lotus Notes NSF files cannot be used by any other application since they do not open in any other email application. EML files, on the other hand, can be accessed by any email client without hesitation.
How to Export Lotus Notes email with attachments?
Method 1:- Convert Lotus Notes email to EML file
To convert single Lotus Notes email from NSF file to EML, follow the below steps.
Open Lotus Notes, select the email that you want to convert from .nsf to .eml
Click on File >> Save As option.
Enter file name as per your choice, select save as type (.eml), then press the save button.
The emails that have been chosen can be easily converted using the same process. Simply repeat this process and convert NSF email to EML file one by one.
Method 2:- Drag and drop save as EML file
Open Lotus Notes, it on file option from the menu bar.
Select preferences from the drop-down list.
Choose the option basic notes configuration
Now select the "Drag and drop save as EML file" from the additional options screen and press OK.
After this Drag and Drop emails from Lotus Notes and the email will now automatically stored in EML file format.
Limitation of Manual Conversion methods
The method only works with Lotus Notes editions 8.5 and higher.
Only one Lotus Note email can be exported to an EML file at a time using these methods.
Exports single email from NSF to one EML file at a time, so the conversion process becomes lengthy.
Automated solution to Export email from Lotus Notes NSF to EML files
Manual methods have many disadvantages, as well as these methods are time-consuming. So a direct solution like eSoftTools Lotus Notes NSF to EML Converter can be better a choice. Since it supports Convert several Lotus Notes emails with attachments as .eml files in a single time. It'll only take a few minutes, and you'll get the ability to use a variety of advanced features.
Software working process for NSF email to EML Conversion:-
Download and Install Free Lotus Notes NSF to EML Converter Software on any windows OS based machine.
Start the software to perform lotus notes email conversion and press the Select NSF
Next, choose the conversion mode from the options Single NSF or Bulk NSF file for conversion, and click on Next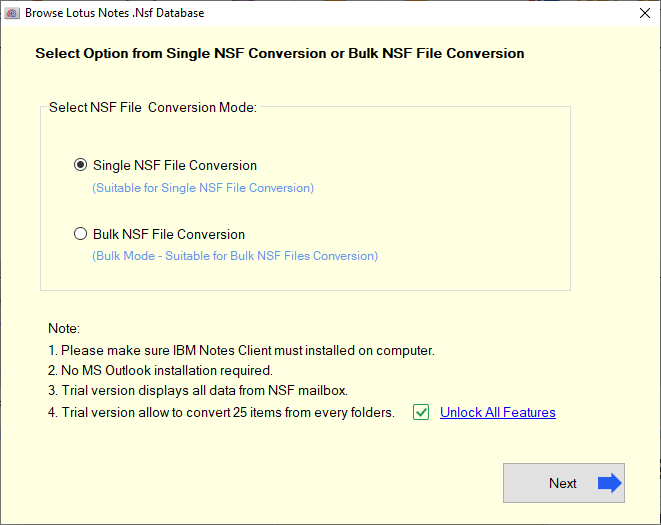 After selecting conversion mode, press the select NSF file button from the next opened window and then press the start scanning button.
Now a live preview of all folders and emails with attachments will appear on the software screen.
Choose the required email folders and click on Convert.
A list of multiple conversion options will now appear on your screen simply click on EML file option. You can also try other conversion options to convert lotus notes emails with attachments.
Choose the mail filtering and naming convention option, and select the file saving location by clicking on the Browse button
After this simply click on Convert button to Export Lotus Notes emails with attachments from NSF to EML files.
Conclusion
The user should deduce the benefits and disadvantages of performing the conversion manually based on the information presented above. As a result, we recommend using an NSF to EML converter to export Lotus Notes emails with attachments to an EML file format. The method will meet your expectations and complete the conversion in a matter of minutes.