Last updated on March 8th, 2022 at 01:33 pm
Many IBM/Lotus Notes desktop application users now want to switch to cloud-based email applications. One of those cloud-based applications is Outlook.com. If you are a user who wants to Import Lotus Notes NSF to Outlook.com/Outlook web access, this blog will become helpful for you. Here we will describe the complete steps to do this task with ease.
HCL Notes formerly known as IBM Notes or Lotus Notes is a desktop-based application for emailing jobs. A large number of home users, as well as large enterprises, prefer using this email client. Not only for emailing, but also this application allows users to perform various other things like- contacts- calendar managing etc.
Lotus Notes is one of the best, most trusted, and secure applications. But like other desktop-based applications nowadays is losing their popularity because of a cloud application.
As compared to desktop applications, users mostly prefer cloud and web-based applications. For this reason, users require to Migrate from Lotus Notes to Outlook.com like cloud applications.
Also Read:- How to Import Lotus Notes Calendar to Outlook 365?
Why Migrate from Lotus Notes to Outlook.com?
There are several points by which users of Lotus Notes wants to switch to Outlook.com:-
Storage:- Lotus Notes desktop uses users local drive to store users profile data/mailbox. On other hand, Outlook.com save users data on cloud servers which helps users in resolving space or storage-related problem.
Interface:- Lotus Notesoffersdifferent features for secure emailing but the interface of the application is a little bit difficult and new users may face some difficulties. On other hand using Outlook.com a very simple and easy because of its clean and smart interface.
Compatibility:- Lotus Notes application is windows based application and to use it users have windows installed computer. Also, users can only access Lotus Notes profiles from a single computer. But Outlook.com is a web-based program and has no compatibility issue. A user can access their Outlook.com account from any computer and device, by just simply opening their web browser.
These are some of the main points why a user wants to switch from Lotus Notes to Outlook.com. Now let's see the best method to accomplish this task with smart steps.
Quick Solution to Import Lotus notes NSF to Outlook.com
Lotus Notes and Outlook.com both are applications used for emailing but works differently. Also, a direct method to migrate from Lotus Notes to Outlook.com is not available. But, a user can perform a migration by moving Lotus Notes NSF files to Outlook.com account. Users can do this task easily with the software called eSoftTools NSF Converter software.
This is a tool that will allow users to directly move NSF files with complete data to Outlook.com account in a direct manner. In a single process, using this tool users can import any number of NSF files to Outlook.com account at one time.
Steps to Import Notes NSF Files to Outlook.com with NSF Converter
Download the eSoftTools NSF Converter to a windows based machine and launch it.
From the first screen click the Select NSF button.
Choose single file or bulk file conversion mode and press next button.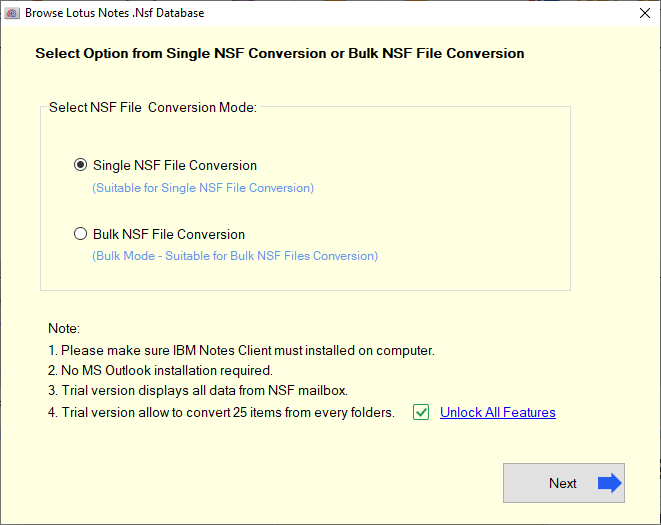 Add/import Notes NSF file in the software and hit the Start Scanning button.
Software will extract all folders and items from NSF files in the software.
Select required folders and press the Import to Cloud >> Import NSF to Outlook.com button from menu bar
Enter your Outlook.com account Email ID and Password.
Input a folder a name to create new folder in Outlook.com account for saving Lotus Notes NSF file's data.
Select other required options like- mail filter and Create log file options.
Finally, press the Convert button to start Importing Lotus Notes NSF files to Outlook.com account.
Conclusion
Several users want to switch from Lotus Notes to Outlook.com but are unable to do it because of improper knowledge. To help all those users we have written this blog post. Now simply follow the steps mentioned above to smartly migrate from Lotus Notes to Outlook.com account in a simple manner.