Last updated on September 15th, 2021 at 06:36 pm
Are you a user who needs to take backup of their important emails, and Lotus Notes items? But have no knowledge of how to do this task? If this is the case, you can get a solution by reading this article. In this write-up, we will talk about the best techniques that users can apply to take backup of Lotus Notes email with simple steps.
In the world of information and technology, the user's first priority is doing any task with securing their important data. HCL/IBM/Lotus Notes is the most famous email client that every It Expert recommends for emailing. It offers advanced security features and a very secure environment to its users for doing the email sending/receiving process. While sharing important stuff with any email program users also need to save them as a copy. A backup of data can help users in various cases. Below are some of the reasons why users need to make a backup of Lotus Notes emails.
Also Read:- How to Backup IBM Notes NSF File to Hard Drive?
Why Take Backup of Lotus Notes Emails?
Reducing Large Size Lotus Notes Mailbox:- Backup helps users to reduce size of Lotus Notes database files. By moving emails NSF file to another location user can easily free up some space from Lotus Notes NSF file.
Recovery of Accidently lost items:- With the backup files, a user can easily recover their accidentally deleted or lost items.
Lotus Notes to other email client:- When a user is swicthing from Lotus Notes to another email client, they also needs to transfer their importanat data. And on that situation a backup file helps user to easily transfer their importanat data from Lotus Notes.
Is there any solution to create a backup of Lotus Notes database?
After doing each task of sending and receiving items Lotus Notes save a copy of those items in NSF files. But saving all the data in this single file can create various problems in the user machines and the functioning of Lotus Notes. That is why users need to create a backup file to split some data from this large-sized NSF file. Multiple solutions are available to create a backup of Lotus Notes emails.
An inbuilt archiving function of Lotus notes is also available to make the backup of Lotus Notes items. Also, users can try the email drag-drop save the emails from Lotus Notes data in EML format. Also, users can also try any automated software like- eSoftTools NSF Converter Software to create a backup of Lotus Notes emails.
Best Automated Software to Take Backup Of Lotus Notes Emails
The manual methods are workable if the Lotus Notes application is in a working state. Also dragging dropping emails one by one is also a very time taking process. If you are in a situation where you are unable to access the Lotus Notes account, the manual method will not work for you. In this case, the only solution that is available for you is using the automated software known as eSoftTools NSF Converter Software.
This solution can help users to create a backup of all Lotus Notes database items including emails, contacts, calendars, and more. It offers several different file formats including EML, EMLX, MSG, HTML, PDF, MBOX, Zimbra(TGZ), and Outlook PST for saving Lotus Notes emails with attachments. In addition to emails, for storing calendars and contacts items users can choose the file options like-vCard, ICS, and CSV.
With simple steps, it Extracts and saves all items from the Lotus Notes Database file (NSF) to the user's specified file format with no trouble.
How to Take Backup Of Lotus Notes Emails with NSF Converter? Step by Step
Note:- To create a backup of Lotus Notes database from NSF file as another format, first download and install eSoftTools NSF Converter on you computer, then apply the below-mentioned steps.
Launch Lotus Notes NSF file Converter Software on your machine.
Press the Select NSF button from the first screen of the software.
From the next screen choose the option as per requirement.

Single File Conversion:- To make the selection of Single NSF file for conversion.
Bulk File Conversion:- Make selection of multiple NSF file to convert them in a single process.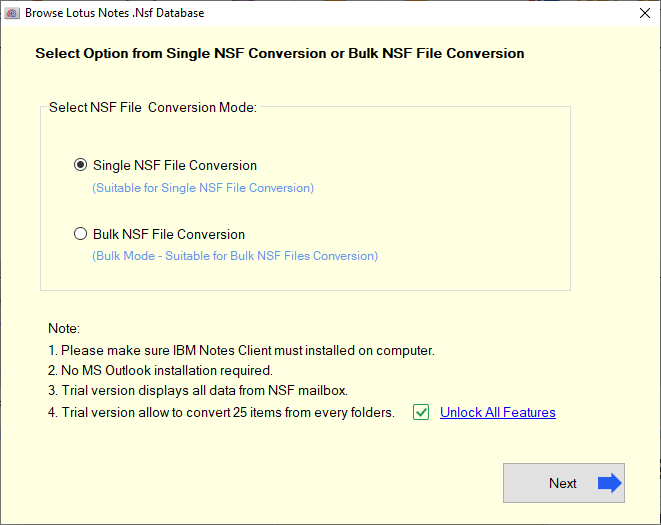 Add the Lotus Notes NSF file from its location then click the Start Scanning button.
Load all folder and elements from the NSF file in the software panel and get the preview of indvidual element.
Select the necessory folders of NSF files and click on the Convert button from the top menu.
Now a screen with a list of multiple conversion options will appear on your screen. To Export save emails user can choose any one of the mentioned options:-

PST file:- Export and save multiple folder of Lotus Notes from NSF file to Outlook PST files.
EML:- Convert Lotus Notes emails and save them as a separate EML file.
EMLX:- Save Lotus Notes emails separtely as EMLX file supported with MAC Apple Mail.
MSG:- Export single emails from Lotus Notes NSF file to MSG.
HTML:- Save emails from NSF database file to HTML for opening with web browsers.
MBOX:- Convert NSF to MBOX file to Export Lotus Notes email folders to email client like- Thunderbird, Pocomail, etc.
Choose the required file format as per your choice then select the saving location.
Start the Conversion process of NSF file to create backup by hitting the Convert button.
By applying these simple a user can easily create a backup of Lotus Notes emails to store them for future use and recovery of accidentally deleted items.
Conclusion
Backup is helpful for users, in situations where they are unable to access their important information because of corruption and data damage issues. With a backup file, a user can easily regain their lost items. In this article, we have provided the best technique for users to save entire email items of Lotus Notes to multiple file formats. Simply download NSF File Converter follow the above-mentioned steps to easily take backup of Lotus Notes emails.