Last updated on September 25th, 2021 at 04:07 pm
Want to open NSF files without Lotus Notes to get a preview of an email requesting urgent information? If this is your issue and you are reading this article, you've arrived at the right place. In this blog post, we are going to discuss the methods to Open .nsf files without Lotus Notes Free.
Lotus Notes is one of the most used emailing programs. A large number of startups and enterprises using it for emailing purposes. Lotus Notes is an excellent email client, but it is still lacking in some areas. Because of this reason, many of its users have switched to Microsoft Outlook or another email client. In order to open an NSF file without Lotus Notes, the NSF to PST file conversion can be the best trick.
By converting NSF files to PST users can open NSF file data in the Outlook application. Converting NSF to PST is not a difficult task, it can be time-consuming if done without proper planning. There are both manual and automatic methods are available for opening NSF files without Lotus Notes.
Convert NSF to Outlook PST file to Open NSF file without Outlook through eSoftTools Best NSF to PST Converter Software. Export Lotus Notes NSF files and data to Outlook PSt in bulk
Manual Method to open .nsf files without Lotus Notes
Use this method to Open NSF file in Outlook. It requires first exporting IBM Lotus Notes NSF file emails to CSV format, and then import this CSV file into Microsoft Outlook using the Import/Export function.
Step 1:- Export CSV from Lotus Notes
Start IBM Lotus Notes and click on File tab from menu bar and select Open to open the NSF file for export process.
After you open the NSF file click on File>>Export option.
From the Export window, choose Comma Separated Value as the format, provide a destination path to save CSV file. Give a name to this CSV file and click on Export.
The export process will begin, and the CSV file will be saved in the location specified.
Now you have all your email of Lotus Notes NSF file in CSV format.
Step 2:- Import CSV In Microsoft Outlook
Launch the MS Outlook program. Select File>>Open & Export>>Import/Export.
Pick the "Import from another program or file" options from "Import and Export wizard" and click the Next button.
Select "Comma Separated Values" from the "import a file" window and then press the Next button.
Browse and add the CSV file you just exported from Lotus Notes and click Next.
Choose the destination folder, and then click Next.
Click the Finish button when the procedure is finished.
The data of Lotus Notes NSF files can now be viewed in the Outlook program.
This is how you can manually open the Lotus Notes data in Microsoft Outlook. While the procedure outlined above is technically possible. It requires a high level of technical expertise as well as enough time to complete the process successfully. Above all, It's also a difficult task if you have several NSF files from different sources.
Automatic tool to Open NSF file without Lotus Notes
To access or open NSF files, manual processes can be implemented, but they come with a number of disadvantages, including lengthy steps, time-consuming, no guarantee of data quality, and so on. As a result, if a user considers opening any confidential files, it is always recommended to use a safe, dependable, and error-free solution. eSoftTools NSF File Converter can be a better option. It allows exporting Lotus Notes data to multiple email clients like- Outlook, Office365, Gmail, Yahoomail, Thunderbird, Zimbra, etc to open NSF files without Lotus Notes environment. Check out the steps below to learn how to open an NSF file without Lotus Notes.
Click the Select NSF button and a new window will appear with two file selection options. From there choose single NSF file or bulk NSF file conversion as per your requirement and press Next button.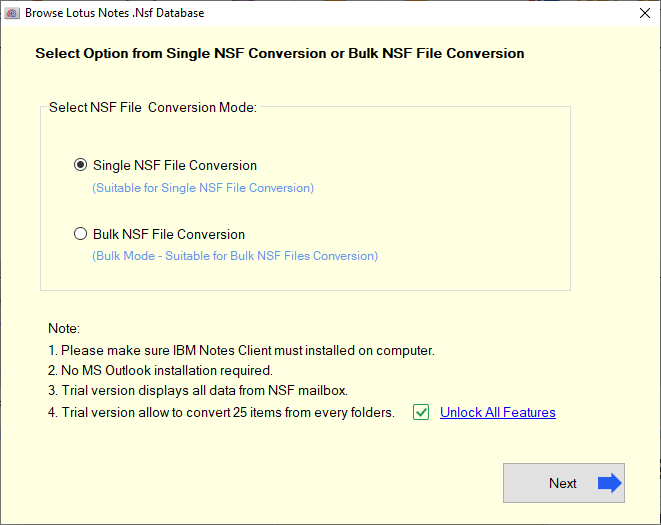 Now search or select Lotus Notes NSF file and click on start scanning.
The software will begin the scanning process and show all NSF file inner folders and emails. In the Preview window, click on the folder or email that you want to open and see.
After this, select the required folders and click on Convert and select PST file from the list of conversion options that appears.
Click on Browse and save the resultant file in the desired folder. Now hit the Convert button.
When the process is complete, the software will display an alert message on the screen that says "Conversion Process Completed Successfully." To exit, click OK.
Conclusion
We've gone through both manual and automated methods in this blog, one after the other. As a result, users can choose any of them based on their needs and comfort. Without a doubt, the manual method is free to use, but it does necessitate technological expertise to complete the procedure. If the consumer does not have a technological experience, the automatic solution should be tried first.