Last updated on September 25th, 2021 at 03:45 pm
Lotus is the most popular email client that is utilized by various companies and large enterprises because of its security structure and algorithms. But in today's era, most organizations have shifted their business to the online platform. And because of this reason, many users are switching from Lotus Notes to Office 365 e-mail systems to reap the benefits. Microsoft has created a program to give the benefits of Outlook, Word, Excel, PowerPoint-like services on a cloud platform known as Office 365. Through this blog, you will get the answer to the question "How to Migrate Lotus Notes to Office 365?".
Reasons why user want migrate from Lotus Notes to Office 365
Lotus Notes is complex to use.
The use of the application is restricted only to technical users. It is difficult to use by a non-technical user.
It is expensive, and the maintenance cost of Lotus Notes is high.
There are chances of corruption of NSF files while using Lotus Notes.
Using a cloud-based application ( Office 365), users get the facility to access the data from anywhere.
It is because of all these reasons, the users are eager to migrate to Office 365 application. It offers them a lot more benefits than Lotus Notes.
Free tool to Migrate Lotus Notes to Office 365
Various manual methods are available on the internet by which you can perform the Lotus Notes to Office 365 migration. But these method has some limitations and only a few can do the accurate migration. After seeing this problem eSoftTools has launched a most straight-forward application that makes the Lotus Notes migration process with 100% security. the name of the software is Lotus Notes to Office 365 Converter Software. With the assistance of this tool, the user will get some amazing features that help users to make secure NSF file Conversion with any limitation.
Key features of the software
There are many salient features of the software like:-
Easily Export Lotus Notes to Office 365.
The software supports working with all versions of Lotus Notes.
Users can migrate NSF files to Office 365 of any size through this application.
Supports batch conversion by which you can transfer multiple NSF files in one go.
Zero loss of data is guaranteed if you use this software.
The interface of the software is simple, intuitive, and user-friendly.
Advanced filter option available in the software for sorting the emails.
First offers a free demo version to all users for checking the features and function of the software.
How to Migrate Lotus Notes to Office 365?
First Download & Install this Lotus Notes to Office 365 migration tool on your computer.
Open the Software and click on Select NSF button
Now choose the NSF file conversion mode from the options:-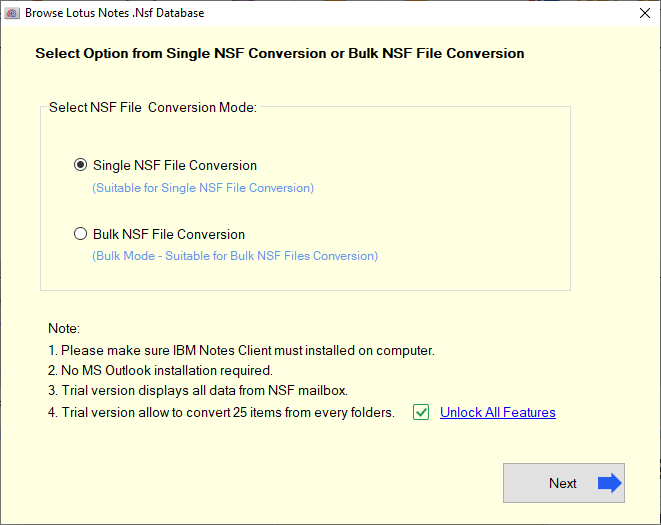 1) Single NSF file Conversion:- for converting selective single NSF file by clicking on Selct NSF file or Search NSF file button
2) Bulk NSF file Conversion:- To Export mailbox and email items from multiple NSF file/Folders at once
After that, click on the Start scanning button and load all its inner mailbox items.
Now the required items and click on Import to Office 365 option from the toolbar.
Now, the user can enter the login credentials for his Office 365.
The filter window will be seen. You can set date range, folder mapping, folder filters And simply click on Connect & Import button to transfer NSF file to Office 365
A message will be seen and the conversion will be completed.