Many Lotus notes users are switching from Lotus Notes to Outlook/Office 365. While moving from Lotus Notes to Office 365 users also need to Export their important data items. Calendar is also one of the data items that Lotus Notes offers to users. If you also searching for a query like- "How to Import Lotus Notes Calendar to Outlook 365?" this blog can help you. Here on this write-up, we are going to discuss the best method to transfer calendar items from Lotus Notes to Office 365 cloud.
HCL/IBM Lotus Notes is a very popular email client that many large enterprises use to send/receive emails items. It offers very high-level security that helps users to make emailing process with complete safety. In addition to emailing users also use this email client for managing calendars.
Lotus Notes is a desktop-based emailing application but now in this world of the internet & technology, every user prefers to use cloud platforms. Using a cloud emailing platform rather than a desktop-based application is much secure and reliable. With cloud applications like Outlook 365 or Gmail, the user gets the facility to access email accounts from any device and any location.
Also Read:- How to Migrate Lotus Notes to Office 365?
Outlook 365 is the cloud version of desktop-based email client MS Outlook. With emailing, also it is capable to store contacts and calendar entries similar to MS Outlook. For moving from older desktop-based email clients to cloud applications, the first choice of every user is Outlook 365. Many Lotus Notes users also want to move to this cloud emailing application.
Switching from one email application like Lotus Notes to another is easy but while transferring data items like- calendar entries you may face problems. In the next section of this blog, we will a solution for this.
How to Import Lotus Notes Calendar to Outlook 365?
Many users need to move their important data from Lotus Notes Data like- emails, Contacts, as well as Calendar items. Manually users can extract Lotus Notes calendars and save them as ICS files. But directly importing calendar items to Outlook 365 is not easy. After seeing this situation here at eSoftTools we have made the best utility known as Lotus Notes to Office 365 Converter Software. It will allow definitely help you transfer all your Lotus Notes mailbox items to your Outlook 365 account by applying some simple steps. This single application will do the process of Lotus Notes to Office 365 with your calendar entries in few clicks.
Steps to Export Lotus Notes Calendar to Outlook 365:-
Click the Select NSF button from the tap menu bar of the software's first screen.
Next choose any one from the options single NSF file conversion or Bulk NSF file conversion and hit on Next.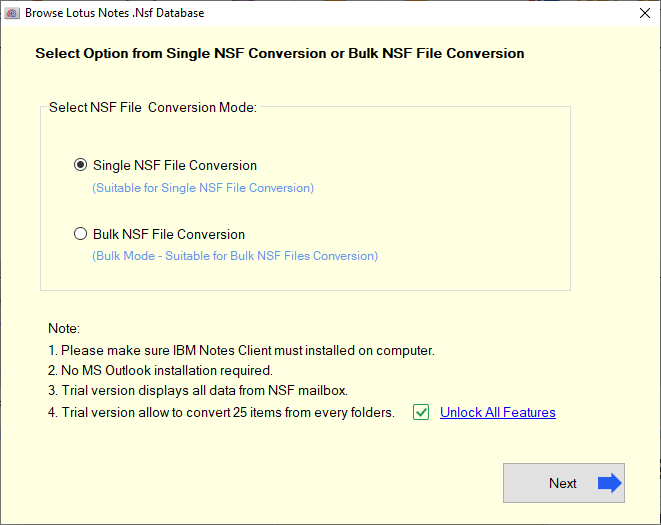 Add NSF files and hit on Start Scanning button. (User can load single as well as multiple NSF files at single time).
Preview inner folders and elements from Lotus Notes NSF files (including- calendar items).
Select required calendars, emails, or contacts folders and then hit the Import to Office 365 button.
Login with your Outlook/Office 365 account details and then hit the Connect & import button.
Start the mmigration process and easily tranfers all calendar items and other lotus notes mailbox items to Outlook 365 accunt.
Conclusion
Mostly every large company uses Lotus Notes desktop-based email client to securely make communication. In addition, users use Lotus Notes to store their important items like- calendar, contact, email, etc. But now mostly every person is able to use the cloud-based platform and all person needs to switch to cloud email client like- Outlook 365. During migration, they also want to transfer their important data items.
Through this blog, we have provided the best solution for handling this situation. Users can try the NSF to Office 365 Migration Tool which will help in transferring items of Lotus Notes including emails, contacts, calendar, etc in Outlook 265 is much reliable. Take the advantage of its free demo version to know more about its working process.