Moving contacts from Lotus Notes to Office 365/Outlook 365 can be a daunting task. However, with the right guidance and tools, the process can be comparatively smooth. In this blog post, we will walk you through the easy steps to export contacts from Lotus Notes to Outlook 365.
Lotus Notes (now known as HCL Notes) and Office 365 are two distinct email and collaboration platforms. Both these applications provide the facility of email sharing but come from different vendors and offer different features.
HCL/Lotus Notes enable users to share/manage and access email accounts from desktops. In addition, Lotus Notes also offers to create and manage contacts, and calendars. On the other hand, Office365 enables users to do these email profile data management tasks from the web.
Office 365's cloud-based architecture, allows users can access their email profile data as well as contacts and other information from anywhere with an internet connection.
This is especially valuable for remote and mobile workers who need access to their data while on the go. For this reason, most Lotus Notes users want to export their data including contacts from Lotus Notes to Office 365 and search for reliable methods.
Also Read: – How to Import Lotus Notes Calendar to Outlook 365?
Transfer Lotus Notes contacts to Outlook 365
For an instant migration of Lotus Notes contacts to Office 365 account the best solution for users is eSoftTools Lotus Notes to Office 365 migration tool. It is an automatic software that simplifies this migration process.
This tool is primarily designed for email migration, but it can handle contacts as well. It provides a user-friendly interface and supports migrating contacts from multiple NSF files within a single process. To make Lotus Notes contacts migration much more effective, it offers different advanced features like- contact preview, folder selection, folder input, and more.
How to export contacts from Lotus Notes to Outlook 365 mailbox?
Download and run the Lotus Notes to Office365 migration tool on your PC.
Click the Select NSF button located in the top menu bar of the software screen.
Next, select either Single NSF file conversion or Bulk NSF file conversion option, then click Next.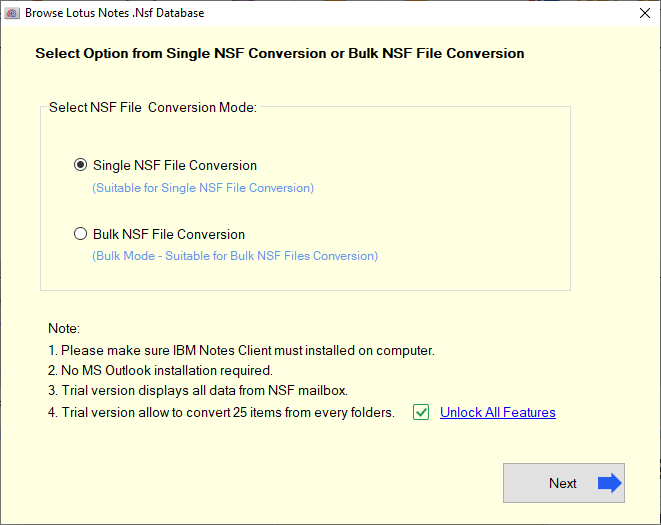 Add notes NSF files and click the Start Scanning button. (The user has the option to load one or more NSF files simultaneously).
View Lotus Notes NSF files' inner folders and items, including contact items.
Select the necessary contact, email, or calendar folders and click the Import to Office 365 button.
Input your Outlook/Office 365 account email address and apply other need settings.
Hit on the Connect & Import button login with your Office365 account and activate the migration process.
Start the migration process and quickly import all of your Lotus Notes contacts to Outlook 365 account.
Key Features of Lotus Notes to Office 365 migration software-
Lotus Notes Contact Migration: The primary function of the tool is to migrate Lotus Notes mailbox data including- contacts from NSF database files to Office 365 accounts accurately.
Batch Migration: The ability to migrate contacts from multiple NSF files at once is also possible with this tool. A large number of contacts easily export from different NSF files at once without data loss issues.
Preview Contacts: The tool allows users to view all Lotus Notes mailbox items including contacts with all associated information before migration.
User-Friendly Interface: Its user-friendly interface makes it easy for users to configure migration settings, and initiate the migration process.
Support All Lotus Notes versions: The software is able to migrate data from NSF fills of all HCL/IBM/Lotus Notes editions – 10.0.1, 9.0.1, 9.0, 8.5, 8.0.2, 7.0, 6.5 6.0 and below editions.
Demo Version available: free trial edition of the software available that allows you to test all its functionality before making a purchase.
Conclusion
Migrating contacts from Lotus Notes to Outlook 365 might seem like a challenging task, but by following the steps outlined in this blog post, you can perform a smooth transition. With the use of eSoftTools Lotus Notes to Office365 migration tool, perform a smooth migration without losing any of your valuable contact information.